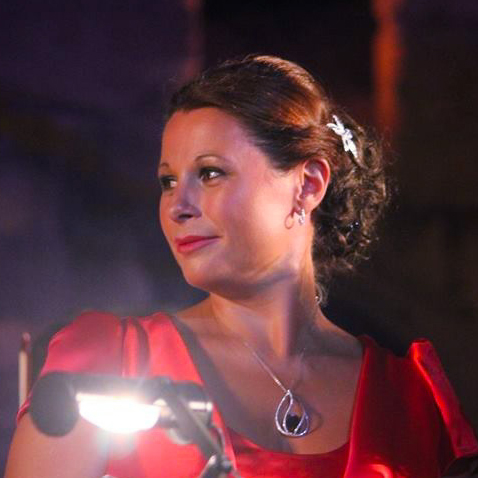 Felicitas Fuchs, soprano

"Fuch's fluid vocal charms delivered with every nuance and every musical detail scrupulously realized, the emotional scale impeccable -  a magical evening" Marc Rochester, Straits Times.

The young German Soprano Felicitas Fuchs has already amassed considerable international professional experience and acclaim on the concert and opera stage, with performances spanning four continents embracing repertoire from across four centuries.

Felicitas Fuchs studied at the Guildhall School of Music & Drama with Ian Kennedy and Rudolf Piernay and was later accepted to the Young Artist Programme in Switzerland with Kurt Widmer. During her studies, she also benefitted from masterclasses with Dietrich Fischer-Dieskau and Graham Johnson before winning the 2006 "La Voce" Lied-Competition, held by the Bavarian Broadcasting Association in Bad Kissingen.

A versatile concert artist and committed recitalist, Felicitas has performed at such renowned venues as Philharmonie Warschau, Herkulessaal and Philharmonie in Munich, the Alte Oper in Frankfurt, UNESCO Hall in Paris, the National Centre for the Arts in Beijing and the Royal Albert Hall, London, and has been a welcome guest at national and international festivals including Kissinger Sommer, Mozart Festival in Augsburg/Wurzburg, Immling Opera Festival and Cape Classics (South Africa). Orchestral performances have included appearances with Münchner Symphonikern und Philharmonikern, Orchester des Bayerischen Rundfunks, Bamberger Symphoniker, Camerata Salzburg, Augsburger Philharmonikern, Saarländischen Rundfunk, der Deutschen Staatsphilharmonie Rheinland-Pfalz (Karl Heinz Steffens), der Tschechischen Philharmonie Prag, St. Petersburg Philharmonic und Chamber Orchestra, Osaka Philharmonic Orchestra (Eiji Oue) und Qatar Philharmonic Orchestra (Michalis Economu, James Gaffigan and David Niemann)
She enjoyes a residency with the Qatar Philharmonic Orchestra with whom she has performed under Armine Kouider, Karl-Heinz Steffens and James Gaffigan in concerts in Doha and Paris. Recordings in the season 2012/13 with the Qatar philharmonic Orchestra under James Gaffigan included Mahler 4th and Beethoven's 9th Symphony for Naxos.

A further area of particular interest has been in relationship to contemporary music, working closely with such composers as Manfred Trojahn, Moritz Eggert, Jörg Widmann, Wolfgang Rihm, Marcel Khalife, Aribert Reimann (including performing the world premiere in 2007 of Lied-Cycle) and Andrew Schultz (performing the world premiere in 2010 of Stille Sprache, the 2012 Singapore performance of which was nominated for Best Live Performance in the Australasian Performing Right Association Awards 2012),

Operatic roles to date have included Gretel (Hänsel and Gretel), Micaela (Carmen), Anne Truelove (Rake's Progress), Foreign Woman (The Consul), Clorinda (La Cenerentola), Pamina (Zauberflöte), Mimi (La Boheme), Tebaldo (Don Carlos), Oskar (Maskenball) and Liu (Turandot). She is also in considerable demand as a recitalist with highlights including performances in Germany and South Africa and in the UK, France, Italy, Singapore and Australia with Bernard Lanskey with whom she has recorded works by Schumann, Brahms, Debussy and Schultz. "

In concert, she has appeared in Haydn´s "Nelson Mass" as a 90th birthday tour with the Academy of St. Martin in the Fields under Sir Neville Marriner, Haydn's "Creation" with the London Symphony Orchestra under Sir Collin Davies, a televised christmas concert with Lebanese Philharmonic Orchestra in Beirut, R. Strauss´ "Four Last Songs" with Cairo Symphony Orchestra at Cairo Opera House and the Radio Symphonieorchester Prag, Beethoven´s 9th Symphony with Qatar Philharmonic Orchestra in Doha, New Year´s Concerts with Munich Symphony Orchestra in Munich, Haydn´s "Schöpfung" with Orquestra Simfonica De Les Illes Balears in Palma and recitals at Kissingen Summer.
Recent operatic engagements include a new production of Humperdinck's Hansel and Gretel at the Esplanade Hall in Singapore under the baton of Chan Tze Law, Woglinde in Wagner's "Rheingold" at the National Opera of Tianjin under Jingkai Sun, Menottis "Der Konsul" at the Tiroler Landestheater Innsbruck under Uwe Sandner und Marzelline in Beethoven's "Fidelio" at the National theater in Prag under Andreas Weiser.